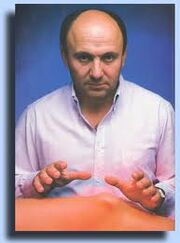 Real Name: Yefim Shubentsov
Occupation: Alternative Healer
Place Of Birth: Moscow, Russia
Date Of Birth: 1940
Location: Boston, Massachusetts
Background: Yefim Shubentsov, an immigrant from Moscow, Russia, came to Boston, Massachusetts in 1980 and began claiming that he was a "bio-energy healer" and that he uses bio-energy to help heal addictions, such as smoking, drinking, and overeating, chronic pains, and even phobias, such as heights, needles, and flying. So far, he has helped heal thousands of people, including Billy Joel, Drew Barymore, David and Courtney Arquette. With a mere wave of his hand, he can change a person forever. Yefim claimed that he received the bio-energy when he was a young man in Russia, and that he could bring plants back to life and cure pains from migraine headaches, but he does not know how exactly he does it. Two Harvard physicians ran a formal medical trial with Yefim and concluded that his powers are genuine. However, skeptics believe that any benefits from Yefim's "healings" are mainly just placebo effects. During the story, a woman was cured of smoking while the other stopped overeating. The two participated in a group session, where he talked for several hours, then had one-on-one sessions where he cured each of them.
Case Files:
Notes: The person was featured as a part of the July 26, 2001 episode.
Links: None

---
Ad blocker interference detected!
Wikia is a free-to-use site that makes money from advertising. We have a modified experience for viewers using ad blockers

Wikia is not accessible if you've made further modifications. Remove the custom ad blocker rule(s) and the page will load as expected.