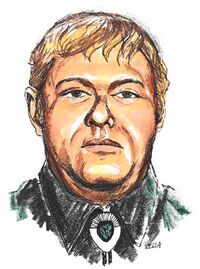 Real Name: Unrevealed
Case: Unidentified Remains
Date: December 4, 1982
Location: Boise, Idaho
Details: On December 4, 1982, an unknown individual walked into the Sacred Hearts Church in Boise, Idaho and committed suicide by swallowing cyanide tablets. The man was dressed in Western attire and the only name on his person was "William L. Toomey". However, nothing can be located regarding a person with that name. The identity of the man and the facts behind his death remain elusive.
Extra Notes: This case ran on March 21, 1990.
Results: Unsolved. The man known as Toomey has never been identified. Sadly, Grace Leeburn, the woman who found "Toomey," passed away in 1996. She was 105.
Links:
---
Ad blocker interference detected!
Wikia is a free-to-use site that makes money from advertising. We have a modified experience for viewers using ad blockers

Wikia is not accessible if you've made further modifications. Remove the custom ad blocker rule(s) and the page will load as expected.