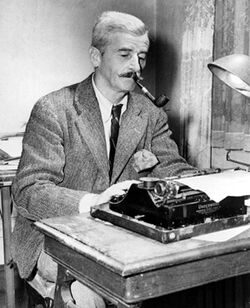 Real Name: William Faulkner
Case: Historical Mystery
Location: Mississippi
Date: 1921
Details: William Cuthbert Faulkner was born in Falkner, September 25, 1897 and was also known as Will Faulkner. He was an American writer and Nobel Prize laureate from Oxford, Mississippi. Faulkner worked in a variety of media; he wrote novels, short stories, a play, poetry, essays and screenplays during his career. He is primarily known and acclaimed for his novels and short stories, many of which are set in the fictional Yoknapatawpha County, a setting Faulkner created based on Lafayette County, where he spent most of his life, and Holly Springs/Marshall County.
In 1921, he was accused of blowing up a store in New York City. In court, he was found not guilty, but suspicion continues as to whether he committed the crime or not.
Suspects: None known
Extra Notes: This case has yet to appear on Unsolved Mysteries.
Results: Unsolved
Links:
---
Ad blocker interference detected!
Wikia is a free-to-use site that makes money from advertising. We have a modified experience for viewers using ad blockers

Wikia is not accessible if you've made further modifications. Remove the custom ad blocker rule(s) and the page will load as expected.