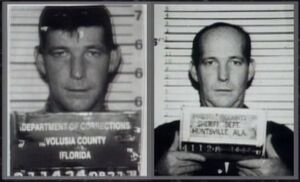 Real Name: William Eugene Hilliard
Aliases: Garlon Russell, Rusty
Wanted For: Fraud, Rape, Child Molestation
Missing Since: September 1988
Details: In February 1988, Garlon "Rusty" Russell arrived at the Sunny Sands nudist resort in northeast Florida and asked to become a member Although the nudist colony had stringent requirements for joining, namely that single men were usually ineligible, Rusty managed to ingratiate himself with the colony's leaders and was awarded membership. He had told the owners that he had no family in that a car crash killed both his parents, and when asked about last employment, he claimed to have been recently discharged from the U.S. Air Force. He claimed that their estate was in probate and that he'd be wealthy once it was settled.
Rusty had claimed to be a film buff and wooed investors into financing a video rental store that he opened in a nearby community. However, his friendly and caring facade was destroyed on August 28, 1988, when he was accused of molesting of an eleven-year-old girl in the nudist colony. He was soon arrested by the state police, charged with sexual battery. When questioned, Rusty insisted it was just horseplay, that he and the girl were "wrestling" and that nothing sexual occurred. His friends in the nudist colony could not believe that he molested the child, so they convinced the judge to release him on $25,000 bail. He convinced Bob Pickens, his landlord at the video store, to post his bond.
The nudist colony's owners, the Noonans, also tried to find money for his bail. However, they soon discovered that Rusty had been lying to them about what he owned. They also discovered that he was having problems with his creditors and payments were past due. The Noonans, realizing that he had duped them, tried to contact the bonding agent. However, Rusty was able to be released from prison before the investigators were notified of his fraudulent dealings.
Rusty was also able to convince Bob to buy the video store, claiming that his reputation had been ruined. Later, the landlord learned that he was the third person that bought Rusty's inventory. After he learned the truth, Bob tried unsuccessfully to get the bail revoked. After being released, Rusty sold his car to two separate individuals. He then rented another car and left the area; he never showed up for his court date.
Although fraud played a part in his status as a wanted man, police had said the major charge against him was the child rape, where he could face a death sentence. Recently, investigators used Air Force records to determine that Rusty's real identity is William Eugene Hilliard. Hilliard has previously been arrested in at least fourteen different states. He has gained more than half a million dollars from his scams. He is also wanted for fraud in Texas.
Extra Notes: His case was featured as a part of the September 27, 1989 episode. Hillard was also profiled on America's Most Wanted.
Results: Captured. Viewer's tips from South Carolina led to Hilliard's arrest just a day after the broadcast; he was living under the alias Ronald Kent. William Hilliard was found guilty of rape, fraud, and child molestation, and sentenced to life imprisonment. The judge further recommended that due to the victim's young age and Hillard's vicious and deceitful nature that he will never be eligible for parole. He will spend the rest of his days in prison
Links: 

---
Ad blocker interference detected!
Wikia is a free-to-use site that makes money from advertising. We have a modified experience for viewers using ad blockers

Wikia is not accessible if you've made further modifications. Remove the custom ad blocker rule(s) and the page will load as expected.