Real Names: Warren H. Fulton III and Rachael A. Raver
Nicknames: No Known Nicknames
Location: Reston, Virginia
Date: December 3, 1988
Details: On December 3, 1988, twenty-two-year-old college sweethearts Warren Fulton and Rachael Raver were with friends in Washington DC when they left in Rachael's car and vanished. On December 6, the couple was found dead in an out-of-the-way wooded property. Rachael had been raped and both of them shot to death by an unknown assailant near Hunter Mill Road in Reston, Fairfax County, Virginia. Police believe that the unknown killer met the couple the night they vanished and then abducted them at gunpoint. When they arrived in the area where they were killed, Warren was murdered first and Rachael tried to escape, but the killer soon caught up with her, raped her, and then killed her, finally fleeing in her car. A single hair found on Rachael's body determined that the killer was African-American. Rachael's family believed that the key to solving the case would be to find her car, so her mother Veronica spent her free time driving around the streets of Washington D.C. looking for the car. Six weeks later, Veronica received a parking ticket for Rachael's missing Toyota sedan, which had been ticketed for illegal parking on a street in Queens, New York. The date of the ticket was the day after the couple had vanished, but when the car was recovered there was not much left of it; although some fingerprints were found on it, no suspects were identified. However, the Raver family refused to give up, and one year after the murders, Veronica Raver saw an Unsolved Mysteries broadcast that caught her attention.
It was about 24-year-old Tina Jefferson, who had been found raped and shot to death in a schoolyard on May 11, 1988 in Arlington, Virginia, and the cases seemed to be similar. However, the police did not believe the cases were connected because Warren and Rachael were white and Tina was African-American, and Tina was alone while Rachael and Warren were together. Finally, police believed that Tina knew her killer while Warren and Rachael's murders were random. It would not be until the spring of 2000 when a technician at Virginia's state DNA lab would link the three murders to the same killer through DNA found on Rachael and Tina's bodies. The killer was still at large a year later.
Suspects: The killer was described as an African-American male in his twenties, about 6'3" and 170 pounds, and he apparently knew Tina. When authorities re-interviewed Tina's sister Crystal, she remembered meeting a man named "Tony" at Tina's apartment complex in Virginia the summer before her murder, and that he may have been her boyfriend and may have been from Queens, New York. While he is not a suspect in the case, police would like to question him.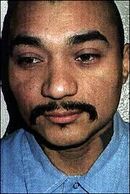 Extra Notes: This segment ran for the first time on August 29, 2001.
Results: Solved. In September of 2005, DNA found at both crime scenes was matched to a serial killer named Alfredo Prieto who was already on death row in California for murdering a 15-year-old girl named Yvette Woodruff in 1990. He was found guilty of the Fulton/Raver murders in 2008 and given the death penalty. He was a suspect in other murders, including a 1989 murder and two double murders in 1990 in California, but was never charged. Prieto was executed by lethal injection on October 1, 2015.
Links:
---
Ad blocker interference detected!
Wikia is a free-to-use site that makes money from advertising. We have a modified experience for viewers using ad blockers

Wikia is not accessible if you've made further modifications. Remove the custom ad blocker rule(s) and the page will load as expected.