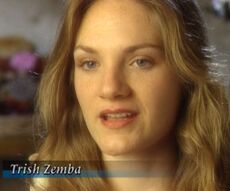 Real Name: Trisha Zemba
Case: Medical Mystery
Location: Phoenix, Arizona
Date: December 24, 1993

Details: On Christmas Eve, 1993, fourteen-year-old Trish Zemba fell from her horse while out on a ride. She subsequently developed a nerve disorder (Reflex Sympathetic Dystrophy) that caused her horrendous pain.
Trish's family prayed for her recovery for weeks, all the way up until the day before her surgery to fix the issue. Trish's pain inexplicably vanished just one day before her surgery.
Trish and her family believe that her recovery was due to the infinite power of faith.
Extra Notes: The case was featured as a part of the September 20, 1996 episode.
Results: Unsolved
Links:

---
Ad blocker interference detected!
Wikia is a free-to-use site that makes money from advertising. We have a modified experience for viewers using ad blockers

Wikia is not accessible if you've made further modifications. Remove the custom ad blocker rule(s) and the page will load as expected.