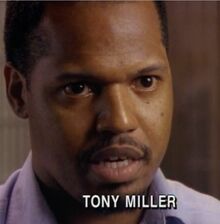 Real Name: Morgan Anthony "Tony" Miller
Case: Appeal
Date: December 14, 1983
Location: Toledo, Ohio

Details: Tony Miller is a Toledo native who was charged and convicted of an armed robbery that occurred in an Arby's Restaurant that he had departed with two friends just minutes earlier. The assailant in the case shot and injured off-duty police officer James Snead during the execution of the crime, and although the man wore a stocking mask, Tony was accused of being the assailant. Two witnesses identified him as the assailant.
Tony, however, claims that he is innocent. He states how unlikely it would be for a criminal to go to a restaurant, speak with someone there, leave, and return just seconds afterwards and commit a robbery. His friends confirmed his alibi, but one was on leave from the Navy at the time and was unable to testify at his trial.
Tony and his attorneys believe that the real assailant was a felon named Joseph Clark, who actually confessed to the shooting but later recanted.
Tony is serving a 20-to-40 year sentence for a crime that he claims he did not commit.
Suspects: A month after the arrest, a known felon named Joseph Clark, who is on death row, was arrested for multiple murder warrants and later confessed to the Arby's shooting; however, he later recanted. Clark's similarity to Tony suggests that he was the real shooter, but a judge refused to allow Clark to testify in Tony's defense.

Extra Notes: This segment first ran on Final Appeal: From the Files of Unsolved Mysteries on October 9, 1992. The update to this case aired on the February 24, 1993 episode of Unsolved Mysteries.
Results: Solved. On the night of the broadcast, a prosecution witness called the telecenter and corroborated Tony's story. He claims that he saw the robber fleeing that night, but was not asked to see a photo line-up. After seeing photographs of Tony and Clark, he believed that Clark was the robber, not Tony.
Based on this witness, along with other evidence, Tony filed an appeal with the Sixth District Court of Appeals who overturned his conviction on December 9, 1992. It was further ruled that Tony's judge "had no power to prohibit a witness from taking the stand based solely on the knowledge that the witness will refuse to testify."
Tony Miller was finally released after serving almost nine years. He has since been reunited with his family.
Links:
---
Ad blocker interference detected!
Wikia is a free-to-use site that makes money from advertising. We have a modified experience for viewers using ad blockers

Wikia is not accessible if you've made further modifications. Remove the custom ad blocker rule(s) and the page will load as expected.