Real Name: Bernie Lazar Hoffman
Aliases: Tony Alamo
Wanted For: Child Abuse, Harrasment, Tax Evasion
Missing Since: February 16, 1991

Details: In the 1970s, Tony Alamo and his wife Susan started a church and made church compounds in California and Arkansas. Everything seemed fine for the Alamos and their followers until Susan passed away in 1982. Tony became angered after her death, began taking out his frustrations on his followers and began abusing children on the compound.
Alamo began working the compound members harshly, until in 1985 when a former member went to police to tell that he was not paid for the work he and the other followers had done. Tony began losing his credibility, especially when in 1989, two former members filed child abuse charges against Alamo, and he soon vanished. He later began threatening federal judges and claiming that he would kidnap them in order for them to stand in his court.
On February, 16, 1991, Tony and others removed his wife Susan's body from her crypt, and has not been seen since. He is wanted for child abuse, tax evasion, threatening a federal judge, and other crimes.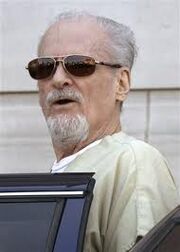 Extra Notes: The case was featured as a part of the May 15, 1991 episode.
Results: Captured. On July 5, 1991, Alamo was arrested due to viewers tips, but he was found not guilty in the threatening of a judge. In 1994, Alamo was convicted of tax evasion and was given a six year sentence. In 1995, the child abuse charges were dropped. He was released in 1998.
However, in 2008, new allegations of child abuse and sexual abuse against Alamo were found. During the 1990s, he allegedly made young women and children his "wives" and took them across state lines to sexually abuse them. He was arrested and convicted of the charges in 2009. Alamo was sentenced to 175 years in prison, and remained there until his death in May 2017.
Links:

---
Ad blocker interference detected!
Wikia is a free-to-use site that makes money from advertising. We have a modified experience for viewers using ad blockers

Wikia is not accessible if you've made further modifications. Remove the custom ad blocker rule(s) and the page will load as expected.