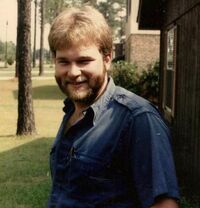 Real Name: Todd McAfee
Nicknames: No Known Nicknames
Location: Arcadia, Florida
Date: August 17, 1987

Details: Twenty-six-year-old Todd McAfee was discovered murdered on State Road 70 near his office, Bonita Packing Company. He had been shot four times and dumped in a drainage ditch. An investigation showed that he might have been ambushed after discovering the trailer was burglarized. Five guns were stolen among other items. His family has a $5000 reward for information leading to the identity of his killer/killers.
Suspects: None known
Extra Notes: This segment originally aired on the September 13, 1989 episode of Unsolved Mysteries.
Results: Unresolved. McAfee's housekeeper, Ruthie Anderson, was charged and indicted in October 1993 for his murder. This result came from a tip from a prison inmate named Jacob Wesley Scott, serving time at Desoto County Jail with Ruthie's husband, Wilbur Anderson who confessed to the murder. However, she was never convicted of the murder because the star witness in the case refused to testify, and Anderson was later released.
Links:
---
Ad blocker interference detected!
Wikia is a free-to-use site that makes money from advertising. We have a modified experience for viewers using ad blockers

Wikia is not accessible if you've made further modifications. Remove the custom ad blocker rule(s) and the page will load as expected.