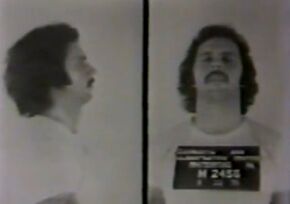 Real Name: Thomas Robert Nauss Jr.
Aliases: None known
Wanted For: Murder, Assault, Rape, Escape
Missing Since: November 15, 1983

Details: In 1979, Thomas Nauss was convicted of first degree murder, indecent assault and rape of his 21 year old girlfriend Elizabeth Ann Lande, who vanished in December of 1971. In November of 1983, he and drug manufacturer Hans Vorhaurer escaped from a Pennsylvania prison through a trunk that was delivered out of the prison. Vorhaurer was later caught, but Nauss remains at large.
Extra Notes: The case was featured as a part of the February 8, 1989 episode.
Results: Captured. In 1990, he was located in Michigan and had a wife and two children. He was returned to the Pennsylvania prison, where he remains incarcerated.
Links:

---
Ad blocker interference detected!
Wikia is a free-to-use site that makes money from advertising. We have a modified experience for viewers using ad blockers

Wikia is not accessible if you've made further modifications. Remove the custom ad blocker rule(s) and the page will load as expected.