Real Name: Thomas Heck
Nicknames: Tommy
Location: Council Bluffs, Iowa
Date: 1944

Details: The Heck family (Delbert, Florence, Jim, Sharon, and Doris) is searching for their long-lost brother, Tommy. The Heck family was made up of six siblings who lived with their parents in Council Bluffs, Iowa. Ten-year-old Delbert Heck, Jr., was the "man" of the household because their father was always away from home. Delbert and his mother often went to drastic measure to provide for the family. In August of 1944, a social worker visited the family; there was little food and the house was not clean. The social worker felt that the children were living in inadequate conditions.

Three months later, the state of Iowa took the Heck children away. Three of the children were adopted, while the other three stayed in orphanages. Florence, then seven, was placed in one orphanage, while Jim and Delbert were placed in another. Florence would often spend the night crying in her bed. One of the orphanage's caretakers would place her in a closet in order to keep her quiet. Delbert was placed in a foster home where he spent most of the time working on their farm.
Finally, in 1952, Florence, Jim, and Delbert were returned to their mother. Sadly, Mrs. Heck passed away without ever seeing her other three children. The Hecks later learned that one-year-old Sharon had been adopted by the Jones family and renamed Doresa. Five-year-old Doris was adopted by the West family and renamed Sally. They did not learn, however, where three-year-old Tommy had gone to.
In 1970, Sally and Doresa were reunited and they began searching for their birth family. Finally, in 1989, Sally and Doresa were able to locate their three siblings and they were all reunited. The five siblings now hope to find their last missing sibling, Tommy.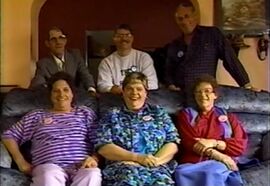 Extra Notes: The case was featured as a part of the September 26, 1990 episode.
Results: Solved. Tommy Heck's adoptive cousin was watching the broadcast and called the telecenter. Within a few weeks, Tommy (now Thomas Wood) was reunited with his siblings.
Sadly, Delbert Heck Jr. passed away in 2003 at the age of 69. Sally Heck-Bell has also since passed away.
Links:

---
Ad blocker interference detected!
Wikia is a free-to-use site that makes money from advertising. We have a modified experience for viewers using ad blockers

Wikia is not accessible if you've made further modifications. Remove the custom ad blocker rule(s) and the page will load as expected.