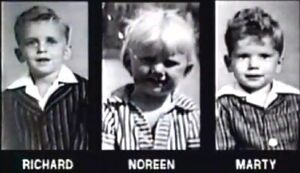 Real Names: Marty, Richard and Noreen Smith
Case: Lost Siblings
Location: Lakewood, Colorado
Date: 1962
Details: Aleatha Smith Evertz is searching for her brothers and sister, Richard, Marty and Noreen. Their parents, who married as teenagers, were seldom around to care for them, and five-year-old Aleatha often cared for her younger siblings by herself. At the time, Richard was just four, Marty was just three, and Noreen was just two. She remembered making chocolate milk and toast for them. When their parents separated in 1960, child services took them and placed them in the foster care system.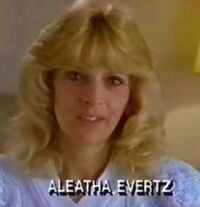 In July 1960, they were placed in the care of foster parents Frank and Mary Anne Wiley. Finally, the children had parents that cared for them. When living with the Wileys, they did chores and played around on their farm. In December 1962, however, they were returned to their father's custody. Unfortunately, he was again negligent with their care. Aleatha was once again left to take care of her younger siblings.
Eventually, concerned neighbors called the police and the siblings were put into separate foster homes. Four years later, after living in two abusive foster homes, Aleatha was returned to the Wileys. She loved her foster parents, but felt confused and lost as a result of the previous abusive homes.
She ran away from the Wiley home, planning to go to Sand Springs, Oklahoma to find her natural grandmother. With the help of a local priest she searched the neighborhood for her grandmother's house, but she was unable to find it. The priest dropped her off at a police station where she was identified as a runaway. She was then put back in the foster care system. For some reason, she was not permitted to return to the Wileys.
Although Aleatha eventually located and reunited with her natural parents, she never was able to find her brothers, Richard and Marty, and sister, Noreen.
Extra Notes: This segment was featured as part of the February 13, 1991 episode.
Results: Solved. Thanks to viewers tips, Aleatha has been reunited with her siblings, but the facts behind the reunion were kept secret from the broadcast and the reunion was not filmed, because of the emotional pain that Aleatha had gone through in her and her siblings' childhood.
Links: None
---
Ad blocker interference detected!
Wikia is a free-to-use site that makes money from advertising. We have a modified experience for viewers using ad blockers

Wikia is not accessible if you've made further modifications. Remove the custom ad blocker rule(s) and the page will load as expected.