Real Name: Mary (last name unknown prior to the broadcast)
Case: Lost Mother
Date: December 1948
Location: Alexandria, Virginia
Details: Carla Jean Downing had always felt different from her family members, especially because she had different hair and eye color than everyone else in her family. These feelings were forgotten after her mother, Mildred Libby, passed away in June of 1965, when Carla was sixteen. She and her brother Ron were sent to live with their grandparents in Alexandria, Virginia. A few weeks after her mother's funeral, a woman named Mary visited her grandparents' home. Carla's grandmother said that Mary was a friend of her mother's. She noticed that Mary seemed quite upset when meeting her, but she assumed that it was just because of her mother's recent passing.
After Carla graduated from high school, she married and had a son. Despite this, she still felt out of place with her family. In 1990, Carla's father Chester died and she traveled to Arlington, Virginia, for his funeral. A relative gave her a briefcase that contained several important documents.
One document from 1945 listed her father as married. However, another document from 1948 listed him as divorced. She had no idea that her father was married before meeting her mother, and that he had divorced his first wife just a few weeks before her birth. Two days later, she talked to her uncle Norman (her father's brother). He finally told her that Chester was not her biological father.
Shortly after, her brother Ron called her. He said that his birth certificate stated that their mother had no children prior to his birth. This meant that Mildred was not her biological mother. She later learned from her uncles (her mother's brothers) that Mildred had suffered a series of miscarriages in the 1940s. In 1948, she met an unmarried, pregnant immigrant named Mary; they knew that Mary would be unable to keep her child, so Mildred and Mary decided to switch their identities. The birth certificate would then say that Mildred Libby was Carla's mother.
Carla was then officially Mildred's child and was raised as such. Carla learned from her uncle that the woman named Mary that she had met in 1965 was actually her birth mother. Since then, Carla has been searching for Mary.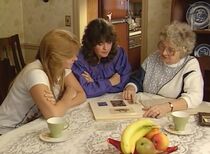 Extra Notes: The case was featured as a part of the September 18, 1991 episode.
Results: Solved. A viewer's tip led Carla to her birth mother, Mary Maxwell, and they were reunited on September 27, 1991, at Mary's home in Maryland. Carla was also reunited with her two half-sisters and nephew.
Sadly, Mary Maxwell passed away on May 6, 2010.
Links:
---
Ad blocker interference detected!
Wikia is a free-to-use site that makes money from advertising. We have a modified experience for viewers using ad blockers

Wikia is not accessible if you've made further modifications. Remove the custom ad blocker rule(s) and the page will load as expected.