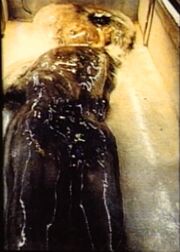 Case File: The Ice Man
Location: Chicago, Illinois
Date: December 1968
Description: The Ice Man (or "Minnesota Iceman" as it is known within cryptozoology) is described as a man-like creature that has ape-like features, frozen in a block of ice. It was approximately 6 feet tall, and apparently had a traumatic injury on the left side of his face.
History: In December of 1968, a bizarre creature named the "Ice Man" was shown at the Chicago Stock Fair. It was six feet tall, had both man and ape-like features, and was frozen in a block of ice. A man named Frank Hansen got possession of the "Ice Man", showed it briefly to several scientists and at several fairs, then left town. Frank later turned up showing off a replica of the "Ice Man" at several fairs in the Midwest. The real "Ice Man" has not been seen since 1968.
Background: Frank Hansen claimed that a mysterious stranger had found the "Ice Man" in Minnesota and later gave it to him to display, but he has since changed his story several times.
Investigations: Scientists Ivan Sanderson and Dr. Bernard Heuvelmans examined the creature several times and concluded that the "Ice Man" was a genuine creature with severe head injuries to the side of the face.
Extra Notes: The case was featured as a part of the September 25, 1994 episode. Cryptozoologist Mark A. Hall of Minnesota appeared on the episode detailing his involvement in viewing and documenting the movement of the Minnesota Iceman for Ivan T. Sanderson and Bernard Heuvelmans, in conjunction with similar tracking occurring throughout the Midwest by his associate cryptozoologist Loren Coleman, then living in Illinois.
Results: Unsolved. Sanderson and Heuvelmans each thought the carcass could have been that of a surviving Neanderthal or other prehistoric hominoid.
Links:
---
Ad blocker interference detected!
Wikia is a free-to-use site that makes money from advertising. We have a modified experience for viewers using ad blockers

Wikia is not accessible if you've made further modifications. Remove the custom ad blocker rule(s) and the page will load as expected.