Real Name: Unrevealed
Case: Lost Friend
Date: 1945
Location: Dachau, Germany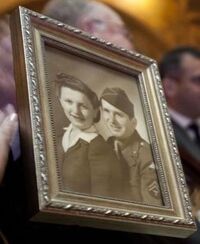 Details: In 1939, Stephan Ross was imprisoned in a Nazi concentration camp in Dachau, Germany. Stephan and his brother were the only ones of their family who survived, and in 1945, they were freed along with all of the other prisoners in Dachau, thanks to allied troops. As Stephan was walking along a road, an American soldier by the name of Steve Sattler gave him his food and an American flag to remember him by. Stephan was emotional and deeply moved by this, and it helped give him the strength to survive and continue with life. He and his brother later moved to the United States, and Stephan, who lives in Boston, now helps troubled teens. He hopes that one day he will be reunited with the American soldier.
Extra Notes: The case was featured as a part of the November 29, 1989 episode.
Results: Solved. On August 26, 2012, Stephan Ross received a call from the granddaughter of his American hero, Sadly to report that Steve Sattler died on December 7, 1986. Despite the disappointment of the bad news, he was excited at the prospect of finally finding word of the soldier after sixty-seven years. On November 11, 2012, Stephan Ross was united with descendents of Lt. Steve Sattler at a Veterans Day ceremony in the Massachusetts State House.
Links:
---
Ad blocker interference detected!
Wikia is a free-to-use site that makes money from advertising. We have a modified experience for viewers using ad blockers

Wikia is not accessible if you've made further modifications. Remove the custom ad blocker rule(s) and the page will load as expected.