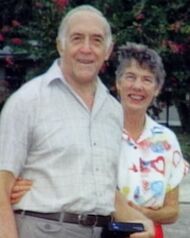 Real Name: Unrevealed
Case: Lost Friend/Benefactor
Date: November 1985
Location: Florida

Case
Details: Russell and Jean Johnson were from Michigan and have four children. Russell was a fire chief but was forced to retire early due to a heart attack. Later, the couple moved to Florida. Despite some health problems, the couple managed to make ends meet. However, after Russell's open heart surgery and Jean's battle with cancer, their financial resources were depleted. Still, their lives were routine and uneventful.
One day in November of 1985, Russell was working in the garage when Jean came in. A somewhat disheveled man was outside, asking for some work to do so that he could eat. Russell met with the man outside, telling him that he would give him something to eat, but he would not have to work for it. Jean made some sandwiches for the man and got him some iced tea.
The man told them that he had come from Houston, but could not find work. The three sat together for a few minutes. Before he left, the Johnsons decided to give him about $5 to help him out, even though they did not have much to begin with. They said goodbye to the man. A few seconds later, they walked to the back of the house to wave to him, but found that he had vanished.
As a result of their kindness, the stranger apparently sent them a check for $500, inside a Christmas card. They went to the bank, and the manager confirmed that the check was legitimate. They asked around, but nobody admitted to sending the money. For the next four years, the Johnsons continued to receive $500 checks at Christmastime. In total, they received $2500 from an unknown stranger. All of the cards had been mailed from the Orlando area. They now want to find this person to thank him. They believe that, perhaps, the man may have also been their guardian angel.
Extra Notes: The case was featured as a part of the December 23, 1992 episode.
Results: Unsolved. Sadly, Russell passed away on February 24, 2001 at the age of eighty-two. It is unknown if the Johnsons ever found their benefactor.
Links:
---
Ad blocker interference detected!
Wikia is a free-to-use site that makes money from advertising. We have a modified experience for viewers using ad blockers

Wikia is not accessible if you've made further modifications. Remove the custom ad blocker rule(s) and the page will load as expected.