Ad blocker interference detected!
Wikia is a free-to-use site that makes money from advertising. We have a modified experience for viewers using ad blockers

Wikia is not accessible if you've made further modifications. Remove the custom ad blocker rule(s) and the page will load as expected.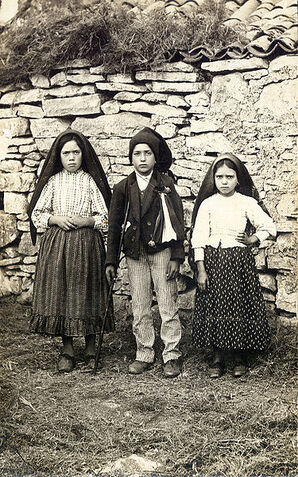 Case File: Fatima Miracle
Location: Fatima, Portugal
Date: May 13 to October 13, 1917
Description: At the time, Fatima was a small rural farming village. The apparition or spirit they observed was described as a female figure in Biblical attire who spoke their native Portuguese to them.
History: Three children, siblings Jacinta and Francisco Marto and their cousin, Lucia Santos, were herding sheep on May 13, 1917, near their home in the village of Fatima, Portugal, when a brightly lit woman appeared out of nowhere. She said that she was the Virgin Mary and told them that she would reveal three secrets to them. When they told their parents, they thought they were lying. The same event occurred on August 13, 1917, and by then word had gotten out—thousands of people had flocked to Fatima. Witnesses said that the sun got brighter, but they did not see the Virgin Mary. However, the children claimed that they saw her and that she had communicated with them "telepathically". The last incident occurred on October 13, 1917, which was similar to the second one. Several thousand people flocked again, along with reporters and photographers, and although the spectators did not see the Virgin Mary, the sun once again got brighter. Jacinta and Francisco died a few years after due to the 1918 flu epidemic, but Lucia survived and still had the Three Secrets of Fatima. The first was a vision of Hell, and the second included the Virgin Mary's instructions on how to save souls from there and convert the world to the Christian faith. In 1925, Lucia claimed to have seen her again in Spain, and she later became a nun. Although the Third Secret of Fatima was allowed to be revealed to the public in 1960, it was withheld. To this day, Fatima is known as one of the most revered shrines in all of Catholicism.
Background: Fatima is a small village located in the country of Portugal. The population reached 10,302 in 2001, mostly due to the Fatima Miracle. Jacinta was eight, her brother, Francisco was seven, and their cousin, Lucia dos Santos, was nine when the first Fatima vision occurred.
Investigations: None
Extra Notes: This case first aired on the November 3, 1993 episode.
Results: Unsolved. In 2000, the Third Secret of Fatima was finally revealed. It was about the deaths of the Pope and other religious figures. Lucia passed away in 2005, and the Fatima visions remain a mystery.
Links: None
---