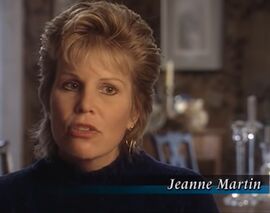 Real Name: Unrevealed
Case: Lost Family
Location: New York, New York
Date: December 11, 1955
Details:  From childhood, Long Island, New York resident Jeanne Martin knew she was adopted.  However, her adopted family for years would not tell her about her biological family members and what happened to them. After pressing her family for years, in July 1992, her adopted mother finally told her that she had been abandoned on a subway as an infant. After overcoming the initial shock, Jeanne began searching for details about her abandonment. She went to the library and eventually found several 1955 newspaper articles about her abandonment. She also found a picture of herself shortly after she had been found (shown below) and named "Miss Subways."

She learned that on December 11, 1955, the day she was abandoned, a young lonely woman entered a subway on Coney Island. She walked slowly, carried a battered suitcase, and sat by herself in the lead car. Several passengers remembered that she opened the suitcase and, shielding its contents from view, removed an object, exiting the subway at the fourth stop, the Van Siclan Street Station. Seconds later, passengers heard crying and found five-day-old Jeanne wrapped in a blanket with a bottle of milk tucked inside.
  Passengers gave police a vague description of the woman, no one knowing who she was or understanding why she had abandoned Jeanne. The story of "Miss Subways" made news around the city, although her mother was never located. Decades later, she believes her mother genuinely wanted the best for her, leaving her in a place where she could easily be found and taken in by authorities. She hopes that someone will remember a young woman having and then losing a child around the time of her abandonment. Her mother would now be approximately 75 years old.
Extra Notes: This case first aired on the December 15, 1995 episode.
Results: Unresolved. Jeanne received several promising leads as a result of the broadcast, however, it is unknown if she was ever able to locate her birth mother.
Links:
---