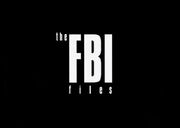 Network: Discovery Channel
First Episode: October 20, 1998
Last Episode: March 24, 2006
Status: Ended
Cast:
James Kallstrom - Host
Anthony Call - Co Host
Susan Rae - Host (International Version)
Stephen Kemble - Host (International Version)
Details: The FBI Files was an American docudrama series that shows actual FBI cases, with dramatic reenactments and interviews with agents and forensic scientists who worked in the investigations.
Links:

The FBI Files shares these cases with Unsolved Mysteries:
---
Ad blocker interference detected!
Wikia is a free-to-use site that makes money from advertising. We have a modified experience for viewers using ad blockers

Wikia is not accessible if you've made further modifications. Remove the custom ad blocker rule(s) and the page will load as expected.