Real Name: Teryn Hedlund
Case: Medical Mystery
Location: Seattle, Washington
Date: December 1992
Details: In December 1992, Terry and Joline Hedlund's infant daughter, Teryn, became gravely ill and was going to die. Two days before Christmas, Terry's brother-in-law, Wayne Rogers, unexpectedly stopped over for a visit, placed his hand on Teryn's abdomen, and prayed.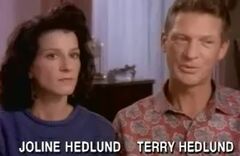 Just hours later, Teryn began to drink her formula for the first time in weeks and was on the path to a complete recovery. When Terry asked Wayne why he visited, he claimed that a mysterious voice had guided him to come there, which they believed, helped save Teryn's life.
Extra Notes: This case first aired on the December 23, 1994 episode. It was also featured on Beyond Chance.
Results: Unsolved
Links:
---
Ad blocker interference detected!
Wikia is a free-to-use site that makes money from advertising. We have a modified experience for viewers using ad blockers

Wikia is not accessible if you've made further modifications. Remove the custom ad blocker rule(s) and the page will load as expected.