Real Name: Terry Lynn Smith
Case: Lost Friend
Date: Summer 1974
Location: San Francisco, California

Details: John and Gerry Timpane met in 1945; they later married and had nine children (six boys and three girls) between 1953 and 1965. The family enjoyed outdoor activities such as horseback riding. In the summer of 1967, at the ranch where they boarded their horses, the Timpanes became friends with the owner Herb Smith. Herb was divorced and his daughter Terry Lynn lived with him at the ranch. However, Herb felt that a ranch was not the right place for Terry to grow up; the Timpanes figured that they could have Terry live with them. Herb agreed to watch their horses in return.

In August 1967, Terry moved in with the Timpanes; she soon became like a member of the family. Shannon, the youngest Timpane, felt especially close to Terry because they were close in age. The two became like sisters; years passed, and the temporary arrangement became practically permanent. On May 2, 1972, tragedy struck when John Timpane passed away from cancer. Gerry had to go back to work as a nurse; she worked the graveyard shift because the teenage children could watch the younger ones at night.
However, money became a big concern with Gerry being the only supporter of the family. Gerry realized that she would have to send Terry back to her father. The Timpane children did not want Terry to leave, but it was the only way to help the family's financial difficulties. In the summer of 1974, Herb Smith took his daughter back to live with him; Terry had lived with the Timpanes for over six years.
Terry still visited during the summertime for several years. The visits decreased when the Smiths moved to a different part of the state. In 1980, Terry visited the Timpanes for the last time. At the time, she was sixteen and living with her boyfriend. The Timpanes had no idea that this would be the last time they would see Terry. After that, they have not been in contact with Terry; the Timpanes would now like to find her.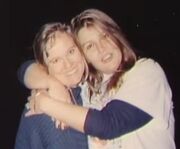 Extra Notes: This case first aired on the January 27, 1993 episode.
Results: Solved. A viewer's tip led to a reunion between Terry, who is engaged and living in Lake Elsinore, California, and the Timpanes on February 5, 1993. The Timpanes and Terry remain in touch.
Sadly, Gerry Timpane died in 1999 at aged 72.
Links: None
---
Ad blocker interference detected!
Wikia is a free-to-use site that makes money from advertising. We have a modified experience for viewers using ad blockers

Wikia is not accessible if you've made further modifications. Remove the custom ad blocker rule(s) and the page will load as expected.