Real Name: TWA Flight 800
Case: Historical Event/Conspiracy
Location: Atlantic Ocean
Date: July 17, 1996
Details: On July 17, 1996, TWA Flight 800, flying from New York to Paris and carrying 212 passengers and 18 crew members, exploded in mid-air. Everyone onboard perished. Although the government and most investigators claimed that the explosion was an accident, other theories include that the plane was struck by a US missile or that a bomb was on board, and the government may have covered up the incident. However, they deny all of the allegations against them.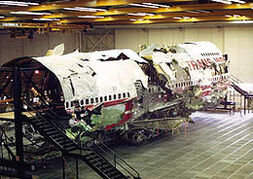 Suspects: Some believe that the US military may have accidentally fired a missile at the plane, or that an unidentified individual placed a bomb onboard.
Extra Notes: This case first aired on the February 14, 1997 episode.
Results: Unsolved. In 2000, the National Transportation Safety Board issued its final report on the crash, which stated the probable cause was an explosion of flammable fuel/air vapors in the fuel tank, most likely from a short circuit. However, many still believe that it was a missile or bomb.
Links:
---