Real Name: Purthena Susan Corum
Case: Lost Sister
Location: Hugo, Colorado
Date: 1946

Details: Virginia Corum Burns is searching for her lost half-sister, Susan King, who was born in 1944. Susan was the daughter of Virginia's father, Joe Corum, from a previous marriage. After her parents had separated in 1946, Susan departed with her mother. Virginia was born a short time later.
For years, when Virginia saw pictures of her father with a small child, she assumed that it was of her. However, he claimed that it was not her but was the daughter of her mother's friend. For her sixth birthday, Joe gave her a doll; she asked him to name it, and he suggested "Sweet Sue." After Joe died in 1990, Virginia's mother Dolly revealed that her father had been previously married and that the baby in the picture was her long-lost sister Susan. She said that she never told Virginia because she had no way of knowing where Susan would be.
Three months later, her mother also passed away. Virginia then began searching for her sister. One of the pictures of her dad with a little girl had "Susan and I in Hugo" written on the back in Joe's handwriting. Joe had lived in Hugo, Colorado in 1942, and worked as a busboy in a cafe. Virginia learned that Joe fell in love with a woman named Diana, whose mother Clara owned the cafe where he worked. Clara did not approve of him because he was poor and did not have a "future".
Despite Clara's objections, Diana and Joe began dating. They later married; Susan was born a year after that. However, they divorced in 1946 due to Clara and Joe's bad relationship. Joe later moved to Colorado and met Virginia's mother. The two married and then had Virginia. Now knowing the sad story of their separation, Virginia wants to find her long-lost half-sister.
Extra Notes: This segment was featured as part of the April 25, 1997 episode.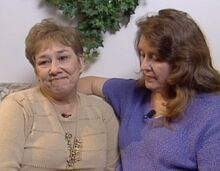 Results: Solved. Moments after the story ran, Susan's ex-husband watching the segment called the phone center then notified Susan directly. Susan had been likewise been looking for her father and his relatives since she had turned twenty-one. Because her stepfather adopted her, the court records were sealed.
Susan King, who lives in Oklahoma City, and Virginia were over-joyed to have been reconnected. A few weeks later, they were reunited in Denver, Colorado. At their reunion, Virginia brought the doll that their father had given her with Susan's name. Since then, Virginia and Susan have been overjoyed to discover how much they have in common; they like the same food and clothes, have the same hobbies, even talk alike. The sisters continue to keep in touch. 
Links:
---