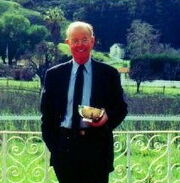 Real Name: Unknown
Case: Unidentified Remains
Date: Unrevealed
Location: Santa Cruz Island, California

Details: Dr. Carey Stanton was a life-long bachelor who left New York City to tend to his family ranch on Santa Cruz Island in 1957. His father, Dr. Edwin Stanton, had acquired the island in 1937 when Carey was still a teenager. The sheep previously raised on the island had become feral, and Hereford cattle were introduced instead. When the elder Stanton passed away, Carey inherited the island, and when he passed away in 1987, he left behind arrangements with the Nature Conservancy to take care legal custody of the property. He also took with him the secret of a set of human bones of a woman in an old footlocker in a barn on his property. Without any records, the authorities would like to get an identity to the identity of the deceased.
Suspects: It is unknown if the bones are the result of a crime. A date of death for the bones has not been revealed. It is not believed that Dr. Stanton had anything to do with the woman's death.
Extra Notes: This case first ran on the February 12, 1992 episode.
Results: Unsolved
Links: No known links. There is no outside verification outside the Unsolved Mysteries segment on the discovery of the bones.

---
Ad blocker interference detected!
Wikia is a free-to-use site that makes money from advertising. We have a modified experience for viewers using ad blockers

Wikia is not accessible if you've made further modifications. Remove the custom ad blocker rule(s) and the page will load as expected.