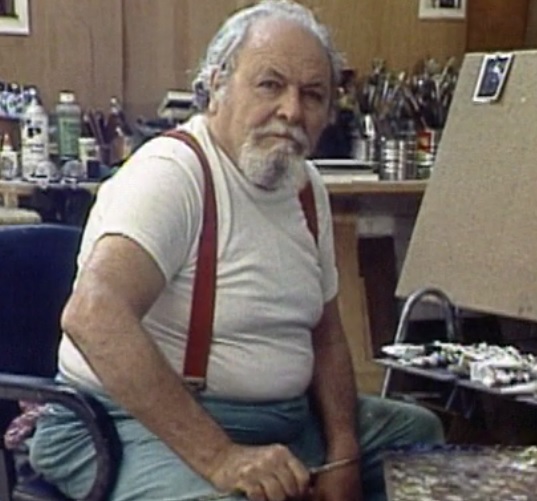 Real Name: The Paintings of Ben Stahl
Nicknames: No Known Nicknames
Location: Sarasota, Florida
Date: April 17, 1969
Details: Ben Stahl was an American painter with fifty national awards who created fourteen paintings depicting scenes of the crucificition of Jesus Christ. He opened the Museum of the Cross in his hometwown of Sarasota, Florida in 1965. The images had been published a 1954 special edition of the bible, but in 1969, a group of cold-hearted thieves broke into the museum the paintings were held and stole the complete series of paintings. The paintings were not insured because to do so was too exorbitant and no one could conceive thieves stealing them. Also absconding with expensive crucifix jewelry from the display cases, yet leaving behind two very expensive Macintosh sound systems, the thieves were very diligent in the crime, removing the paintings tack by tack from their frames. They were never caught, and it is now believed that the artworks could possibly be hidden away in some private collection away from public view, possibly without knowing they are stolen. The statue of limitations ran out on the theft, and now Ben Stahl's children only want to find the paintings to pay tribute to their father.
Suspects: No known suspects. Witnesses recalled seeing a white van parked at the museum overnight, but no fingerprints were ever found inside, indicating the thieves were very experienced. Although the FBI became involved, their involvement was cursory, and they never kept a record of the stolen artworks. Robert Seinstream of the Seinstream Gallery in Boca Raton, Florida claimed to Stahl's son, David, that he had seen the paintings in storage at the Museum of Fort Lauderdale, but this tip was never followed. The files on the original robbery investigation were reportedly lost in a fire at the sheriff's department, but another source claimed they were lost by a flood. There are no records of either incident.
Eventually, David Stahl was linked by a friend he knew to an informant who said the paintings were stolen by a figure known only as "Travis Rausch" aided by two other men. On his own, Stahl has been privately following ever lead, but without the assistance of the Sheriff's Department and the FBI, he is limited in the scope of his investigation. While the FBI sometimes dispose of unsolved cases, several retired FBI agents confide that disposal is not routine and should be suspect.
Extra Notes: This case originally ran on the April 7, 1993 episode. It was also covered on ABC NewsPrimetime Live.
Results: Unsolved
Links:
---
Ad blocker interference detected!
Wikia is a free-to-use site that makes money from advertising. We have a modified experience for viewers using ad blockers

Wikia is not accessible if you've made further modifications. Remove the custom ad blocker rule(s) and the page will load as expected.