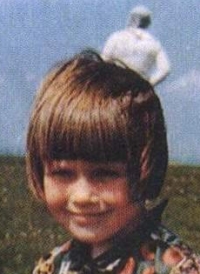 Real Name: Solway Firth Spaceman
Case: Alien Sighting
Location: Burgh Marsh in Solway Firth in Cumbria, England
Date: May 23, 1964

Details: The Solway Firth Spaceman refers to a photograph taken by Jim Templeton on May 23, 1964. The photograph included his daughter, and in the background what it looked like to be an image of an astronaut. In 2002, Templeton stated "I took three pictures of my daughter Elizabeth in a similar pose – and was shocked when the middle picture came back from Kodak displaying what looks like a spaceman in the background."
He took the photograph to a police station, and the results were that the photograph had nothing suspicious about it, making it a real photograph. To this day, no one knows who or what the spaceman is, or how it appeared in the shot.
Extra Notes: This segment has not appeared on Unsolved Mysteries.
Results: Unsolved
Links:
---
Ad blocker interference detected!
Wikia is a free-to-use site that makes money from advertising. We have a modified experience for viewers using ad blockers

Wikia is not accessible if you've made further modifications. Remove the custom ad blocker rule(s) and the page will load as expected.