Real Names: Unknown
Case: Lost Rescuers
Location: Newport, Rhode Island
Date: September 23, 1978

Details: Forty-one-year-old Colleen Frangione is the mother of two sons who has been paralyzed since 1978. She has spent the past fifteen years speaking to junior high school students about seat belt safety. She feels that through her speeches, she has helped to save lives. Now, she is searching for two men who saved her life during the accident that paralyzed her.
On September 23, 1978, Colleen was returning home from a night out in Newport, Rhode Island. Just before 1 am, she was turning on to Rogers Road when she came to a complete stop. Unfortunately, a car filled with teenagers behind her did not stop; she was stuck from behind. The twisting of her car caused two of her vertebra to break; she was also knocked unconscious. Flames engulfed her car and a couple who lived nearby, Patty and Joe Trifero, tried to help Colleen out of the car. Because of the flames, they were unsuccessful; then, two men appeared and told the couple to get a crow bar. The Triferos went to their garage; during this time, the two men pulled Colleen from her burning car and took her to the nearby sidewalk.
A third rescuer soon appeared; she took charge of the situation, telling the men to call 911 and get a blanket. The woman believed that Colleen was suffering from shock. Paramedics and firefighters arrived at the scene within minutes; however, the two unknown men vanished. A few days later, Colleen regained consciousness and learned that she was paralyzed from the waist down. Four months later, she was released from the hospital. Colleen went on to raise her two children as a single parent; in 1985, she re-married. Since then, Colleen has always thought about the accident and the two men who helped saved her life.
Just after the accident, the hospital priest gave Colleen's parents what he though was the name of one of the rescuers, Ray Meyer. However, they could find no one with that name in the Newport, Rhode Island area. Four years later, an acquaintance that Colleen met at a beauty parlor told her that she believed that the other man's name was John. His nickname may have been J.J. and he was in the Navy. He had apparently been transferred to the West Coast. Attempts to locate either men has been unsuccessful.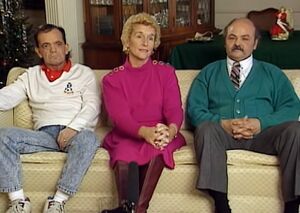 Extra Notes: This segment was first featured as part of the December 1, 1993 episode and updated on the February 9, 1994 episode.
Results: Solved. On the night of the broadcast, both of Colleen's rescuers were watching and called the telecenter. The men's names are Ray Meyers and Mike Kane; both live in the Providence, Rhode Island area.
On December 27, 1993, Colleen was finally able to thank her rescuers when she was reunited with Ray and Mike at her home in Florida.
Links:
---
Ad blocker interference detected!
Wikia is a free-to-use site that makes money from advertising. We have a modified experience for viewers using ad blockers

Wikia is not accessible if you've made further modifications. Remove the custom ad blocker rule(s) and the page will load as expected.