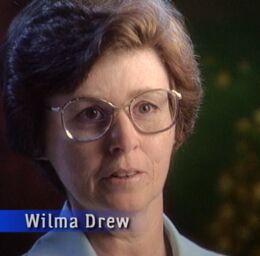 Real Name: Unknown
Case: Lost Rescuer
Location: Summerfield, Florida
Date: September 7, 1995

Details: At around dusk on September 7, 1995, forty-eight-year-old Wilma Drew was driving home along a four-lane highway near Ocala, Florida, when a person entered the highway going the wrong way. The driver of this vehicle struck Wilma head-on and both vehicles were severely damaged. David Vittitow was driving behind Wilma; he pulled off to the side of the road to try and help her and the others. The driver and passenger of the wrong-way car seemed to be moving, but Wilma was not. She was pinned in her car, the steering column wedged against her chest. Wilma's driver's window was opened, but the other windows and doors were jammed. David went back to his car to get a tool to pry the door open. Another passerby, Matthew White, also tried to help. Neither of them knew that Wilma had been broken, cutting off her air passage; Wilma was suffocating.
David tried to flag down help, and eventually, a tanker truck stopped. Fortunately, the truck driver apparently knew what to do in the situation. The driver brought a pick axe, which Matthew used to break the passenger back window open. The truck driver then climbed into the back seat, reached over, and held Wilma's head up. Matthew and David tried to lift the steering column off of Wilma's chest. Meanwhile, the truck driver kept Wilma's neck motionless. Ten minutes after the accident, the ambulance arrived. The paramedic told the truck driver that he had to get out of the car, but the man said that he would not leave until Wilma had a brace around her neck. Once the brace was around her neck, the truck driver left the car. He then drove away from the scene without telling anyone his name.
Wilma's husband Bill arrived at the scene moments later; he assumed that his wife had been killed, but he was told that Wilma had survived. It would take eleven operations and nearly a year to repair the damage. Wilma's right leg had nearly been torn in half, her left ankle was shattered, her brain stem was so damaged that it caused permanent double vision, and the C2 vertebrae in Wilma's neck was completely severed. 
According to Wilma's neurosurgeon, the truck driver saved Wilma's life that day; had he moved her neck or done anything differently, she could have been killed. Wilma and her family now want to find the truck driver and thank him for saving her life.
Extra Notes: This segment was featured as part of the May 22, 1998 episode.
Results: Solved. The truck driver, a former EMT, saw himself on Unsolved Mysteries and contacted the telecenter. He was overjoyed to learn that Wilma was alive and well.
Links:
---
Ad blocker interference detected!
Wikia is a free-to-use site that makes money from advertising. We have a modified experience for viewers using ad blockers

Wikia is not accessible if you've made further modifications. Remove the custom ad blocker rule(s) and the page will load as expected.