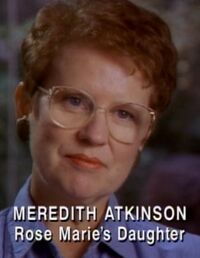 Real Name: Rose Marie Luttmer
Case: Lost Mother
Location: Oklahoma City, Oklahoma
Date: July 1938
Details: Meredith Atkinson is searching for her birth mother, Rose Marie Luttmer, who gave her up for adoption more than fifty years before. During the Great Depression, thousands of families were forced to abandon their homes due to drought and other problems. During the 1930s, Rose Marie and her family left Texas due to the depression and moved to Oklahoma. In 1938, she was in Paul's Valley for the cotton harvest. She was also unmarried and pregnant. When she could not longer work, she sought refuge at the Home of Redeeming Love, a shelter for unwed mothers in Oklahoma City. Meredith was born there on July 16, 1938, and Rose Marie had no choice but to give her up for adoption.
Meredith grew up in Oklahoma and Texas, the only child of her adopted parents. She was not told that she was adopted until 1990. Fifty-two years after she was adopted, in August of 1991, Meredith returned to her birthplace to look for clues about her past. She found her birth certificate, which listed her birth name as "Mary Ann Luttmer". She learned that her mother was of Irish and German descent and that she had one sister and four brothers, who were all field workers during the Great Depression.
Meredith and her husband returned to Arizona. Several months later, they received a letter from the home that Rose Marie had written in 1940. She asked the home to send her a picture of her daughter. At that point, Meredith realized that her mother did care for her and thought about her. She now wants to find her mother to tell her that she understood the situation that she was in and wants to forgive her. She has been searching for her ever since.
Extra Notes: This case first aired on the January 26, 1994 episode. Some sources have her last name listed as "Ledbetter".

Results: Solved. A private investigator named Glenda Allen was watching the broadcast and called Meredith. Glenda agreed to take on the search, and just one month later, Rose Marie Luttmer, now seventy-eight, was found. Though she had been in failing health for several years, she was anxious and happy to hear from her long-lost daughter.
In September 1994, Meredith and her two children traveled from Arizona to Phillipe, Oklahoma, to be reunited with Rose Marie. Along with doing so, she was also able to meet several aunts, uncles, and cousins. Rose Marie passed away on July 23, 1998. Sadly, Meredith died shortly after Rose Marie's death on October 18, 1998 at age 60.
Links: None
---
Ad blocker interference detected!
Wikia is a free-to-use site that makes money from advertising. We have a modified experience for viewers using ad blockers

Wikia is not accessible if you've made further modifications. Remove the custom ad blocker rule(s) and the page will load as expected.