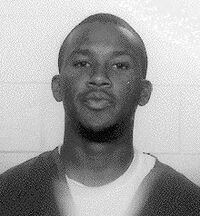 Real Name: Robert Earl Cains
Aliases: Ratman
Wanted For: Robbery, Abduction, Murder
Missing Since: February 1995
Details: 23 year old Ronald Cains was part of a notorious South Central Los Angeles street gang known as the Athens Park Bloods and is one of six armed robbers who abducted Robert Davis and his daughter, Jainah Alexis Spencer, from their Lancaster, California apartment on February 21, 1995. Rather than turning themselves over to the police, they engaged in a police chase that ended in their car being destroyed and on fire, the six men escaping the scene that killed seven month old Jainah. Three conspirators, Marcel Cloud, 30, Kenyon Pitts, 24, and Herman St. Amie, 30, were arrested, but Cains and 24 year old Cephus Sudduth, went on the run. In July of 1995, Sudduth was arrested, but Cains is still at large. He has been charged with murder along with 3 counts of robbery and is considered armed and extremely dangerous.
Extra Notes: This case first aired on the October 27, 1995 episode of Unsolved Mysteries.
Results: Captured. In December of 1995, Cains was arrested in Memphis, Tennessee. He and four other co-conspirators were found guilty of abduction and murder and sentenced to life in prison without the possibility of parole. The last conspirator, Wadrik Bouligny, pled guilty and was given a lighter sentence and agreed to testify against the others.
Links:
---
Ad blocker interference detected!
Wikia is a free-to-use site that makes money from advertising. We have a modified experience for viewers using ad blockers

Wikia is not accessible if you've made further modifications. Remove the custom ad blocker rule(s) and the page will load as expected.