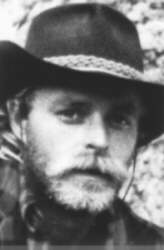 Real Name: Ronald Jeffrey Bax
Aliases: Spencer Clark, Spencer Jones
Wanted For: Murder
Missing Since: March 1, 1992
Details: Ronald Bax was a sculptor, taxidermist, outdoorsman and gun expert who had a long history of marital discord and allegations of spousal abuse; his wife, Lynn, eventually sought refuge in a shelter for battered women on March 1, 1992. Her only visitor that night was her best friend, Krystal Senyk. Ronald hated their friendship. When Krystal returned to her house at around 11pm, she was killed by a gun shot wound at close range in her own doorway. Bax fled his hometown of Carcross, located in the Canadian Yukon Territory, where the murder took place. Bax has relatives in Michigan and could be hiding out on the USA. He is 5'7", 150 pounds, has blonde hair and blue eyes, a tattoo of a winged horse on his upper right arm and would now be 50 years old.
Extra Notes: This case first aired on the December 1, 1995 episode of Unsolved Mysteries.
Results: Wanted
Links:
---
Ad blocker interference detected!
Wikia is a free-to-use site that makes money from advertising. We have a modified experience for viewers using ad blockers

Wikia is not accessible if you've made further modifications. Remove the custom ad blocker rule(s) and the page will load as expected.