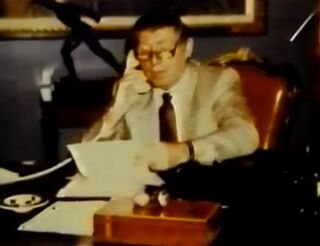 Real Name: Robert Leads
Aliases: None known
Wanted For: Grand Theft
Missing Since: 1987

Details: Robert Leads is wanted for the theft of several paintings throughout the years. He convinced many people with expensive pieces of art to let him sell them, and that they would get collateral for the paintings. However, he would send them fake stock as collateral, and then keep the stolen paintings. The victims began calling the police about Leads and that he had stolen their paintings. Leads has gotten over $300,000 from the stolen paintings.
Extra Notes: The case was featured on the January 25, 1989 episode.
Results: Captured. Several viewers recognized Leads as a man named Robert McKinney in Williamsburg, Virginia, and he was arrested at a hotel four days later. He pleaded no contest and was sentenced to two years in prison. After the update, several stolen art pieces were listed by Stack, in hopes that viewers could locate them. They included the Potato Eaters and Sunflowers, by Van Gogh, that were stolen in the Netherlands in 1987;Impression Sunrise, along with other Claude Monet pieces that were stolen in 1985; Bird and Boquet, by Mark Chagall was stolen in 1987; Lady Writing Letter with Maid by Vemeer was stolen in 1986; Still Life with Peaches, Pears, and Grapes, by Robert Dunning was stolen in 1987, and Stairs, by Y.J. Cho, was stolen in 1988. Potato Eaters and Sunflowers were later found, along with Impression Sunrise in 1990. Lady Writing Letter with Maid was recovered in 1993. It is unknown if the other three paintings were ever recovered.
Links:
---
Ad blocker interference detected!
Wikia is a free-to-use site that makes money from advertising. We have a modified experience for viewers using ad blockers

Wikia is not accessible if you've made further modifications. Remove the custom ad blocker rule(s) and the page will load as expected.