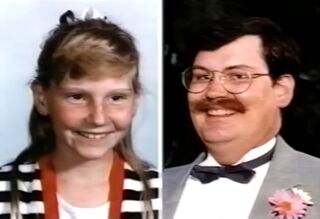 Real Name: Richard Relf
Aliases: His name is sometimes erroneously spelled "Rouf."
Wanted For: Fraud, theft, abduction
Missing Since: 1992
Details: On September 9, 1992, Joanne Relf of Phoenix, Arizona, came home from work planing to spend the night with her 11-year-old stepdaughter. Heather. Her husband, Richard, had left that morning on business, but when she got home, Joanne found a note from him stating that Heather had been picked up by her grandparents after school. However, Joanne found that Heather had not been at either place; she searched and found that several clothes and luggage were missing along with some credit cards. She still doesn't know where Richard and Heather went and Heather's mother, Penny Nickel-Relf, just wants to find her. At the time he vanished, Richard was being investigated for embezzling more than a million dollars from his employer Brown Wholesale Electric Company in Phoenix. He was an industrial controls manager and oversaw production of his electrical designs. He often requested checks from Brown Electric to pay for components and one of the suppliers was an outfit called "Adtech". Joanne worked as a bookkeeper and was thrilled at the apparent success of the business and because of the success, great amounts of money came in along with a change in Richard's lifestyle: buying cars and property and throwing parties for friends, the money kept rolling in. Then, on the morning of May 20, 1992, the office manager of Brown Electric became suspicious and check Adtech's bank and discovered that the Relfs were the names on the bank account. Richard was fired that day but remained free as the police began their investigation and determined that during the scam, he took about half a million dollars. Also, it was discovered that he had started a second fake company and as authorities prepared an indictment, he planned his disappearance. He made purchases and took out cash advantages totalling $25,000 on credit cards and then on September 9 he and Heather vanished. He is wanted for two counts of fraud and two counts of theft. In 1993, Joanne was granted a divorce and was exonerated of all charges. In 1994, Penny received full custody of Heather. However, they have still not been found.
Extra Notes: This case first aired on the October 27, 1995 episode.
Results: Captured. In September 1998, Heather saw herself on the Unsolved Mysteries website and contacted her minister who notified the police. She was later reunited with Penny. Richard was arrested, tried and convicted of fraud and theft, and sentenced to ten years in prison. He was released in 2003.
Links:
---
Ad blocker interference detected!
Wikia is a free-to-use site that makes money from advertising. We have a modified experience for viewers using ad blockers

Wikia is not accessible if you've made further modifications. Remove the custom ad blocker rule(s) and the page will load as expected.