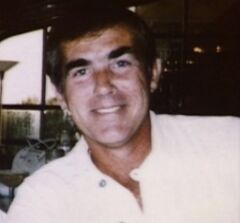 Real Name: Raymond David Young
Aliases: Ray Young
Wanted For: Tax Evasion
Missing Since: April 6, 1993
Details: On April 6, 1993, businessman Raymond Young, his son, and several friends went scuba diving off the coast of Louisiana at the mouth of the Mississippi River. At 6 pm, Raymond and his son decided to make one final dive. Twenty minutes later, his son returned, claiming that he could not find his dad. A massive search turned up no trace of Raymond. His family assumed that he drowned, but the authorities believed that he faked his drowning and is still alive.
Young was a flashy, self-made millionaire who owned and operated a wholesale fuel company on Marco Island, Florida. He set up the company to distribute diesel fuel for offshore marine use. Because he supposedly sold to wholesalers only, he was exempt from paying federal excise taxes. However, when customs officials discovered that millions of dollars were flowing in and out of his personal bank accounts, they suspected that he was really scamming the government.
They later discovered that Young was selling his fuel to retail gas stations throughout Texas. He then pocketed the money that was supposed to be paid to taxes. It was estimated that he was stealing forty cents per gallon. It is believed that he defrauded the government for an excess of $15 million. In October of 1991, the IRS and U.S. Customs Service launched a joint investigation into Young's activities. At the same time, he began to liquidate his assets.
Eventually, the authorities charged him with seventeen counts of tax evasion. However, he left Florida while the investigation was still underway. In May of 1992, he resurfaced in New Orleans. They watched his Mercedes, which was parked next a luxury yacht. Records confirmed that the boat belonged to Young. When he went to the boat, he was arrested.
For some reason, Young was convinced that he would be acquitted. However, in January of 1993, he was convicted on the tax evasion charges. Even though he faced up to thirteen years in prison, he was granted bail to clean up his personal and business affairs. Two days before he was to sentenced, he went on the scuba diving trip and vanished. Authorities are certain that he is still alive.
Extra Notes: This segment originally ran November 17, 1993.
Results: Captured. In 2000, after seven years on the run, Young was found in Costa Rica. He was arrested and returned to Florida in April of 2001. He was sentenced to seven years in prison and has since been released. His wife Anne was also arrested and charged with helping him escape.
Links:
---
Ad blocker interference detected!
Wikia is a free-to-use site that makes money from advertising. We have a modified experience for viewers using ad blockers

Wikia is not accessible if you've made further modifications. Remove the custom ad blocker rule(s) and the page will load as expected.