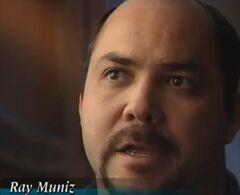 Real Name: Raymond Muniz
Case: Unexplained Phenomenon
Date: June 1996
Location: Austin, Texas

Details: Ray Muniz claimed to have encountered aliens many times. In June of 1996, Ray recieved a video from a person who said that the video showed an unidentified object in the sky. A few days later, a mysterious group of unknown individuals known as the "Men In Black" arrived at Ray's workplace and asked him to go to a building to give a document. When he returned to his home, he found that it his house had apparently been searched by the men in black. However, the video, surprisingly, was still in the home.
Extra Notes: The case was featured as a part of the April 18, 1997 episode.
Results: Unsolved
Links:

---
Ad blocker interference detected!
Wikia is a free-to-use site that makes money from advertising. We have a modified experience for viewers using ad blockers

Wikia is not accessible if you've made further modifications. Remove the custom ad blocker rule(s) and the page will load as expected.