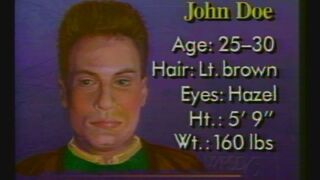 Real Name: Brian Stanley Duecker
Case: Unidentified Remains
Date: September 30, 1991
Location: Paducah, Kentucky

Details:
At the Paducah Airfield in Kentucky on September 30, 1991, witnesses saw an unidentified figure run and jump onto a taxiing plane, only to fall to earth later. No one knew who he was.
Extra Notes: The case was featured as a part of the September 16, 1992 episode.
Results: Solved. In 1997, a woman named Dee Duecker watched a repeat of this segment and believed the man was her missing son. In 1999, this John Doe was identified as Brian Stanley Duecker. Brian was a schizophrenic and it is believed that is why he jumped onto the plane.
Links:
---
Ad blocker interference detected!
Wikia is a free-to-use site that makes money from advertising. We have a modified experience for viewers using ad blockers

Wikia is not accessible if you've made further modifications. Remove the custom ad blocker rule(s) and the page will load as expected.