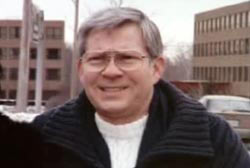 Real Name: Phil Harris
Occupation: Private Investigator
Place Of Birth: Unrevealed
Date Of Birth: Unrevealed
Location: Colorado
Background: On October 15, 1995, private investigator Phil Harris had fallen asleep in his chair when he heard a voice say that its name is David Chase, that he was murdered and Phil needed to read the Sunday newspaper. Phil found that a man named David Chase had been suspiciously found dead in the Bear Creek River after vanishing a few months earlier. Phil believed that David wanted to get his case solved so he contacted David's wife Judi and agreed to work on the case for $1. Sadly, just a year later, Phil died of a massive heart attack - but Judi is still investigating and believes that her husband was murdered by a friend, Matt Orahoske.
Case File:
Notes: The case was featured as a part of the November 11, 1996 episode.
Links:
---
Ad blocker interference detected!
Wikia is a free-to-use site that makes money from advertising. We have a modified experience for viewers using ad blockers

Wikia is not accessible if you've made further modifications. Remove the custom ad blocker rule(s) and the page will load as expected.