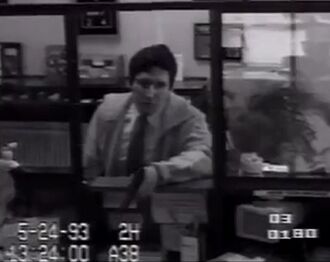 Real Name: Unknown
Aliases: None Known
Wanted For: Armed Robbery
Missing Since: 1993
Details: An unidentified man is wanted in the robberies of several Pennsylvania banks since 1977. He goes to the bank without wearing a disguise, pretending to want to open a business accound and he shoots out the security cameras. His last known bank robbery was in 1993 in the small town of Cambletown, Pennsylvania where he held the tellers and a customer hostage and made them give him all of the money from the vault. The bank robberies that he commited include: 1977 robbery in Halifax, 1985 robbery in Pillow, April 1990 robbery in Dalmatia, December 1990 robbery in Montgomery, March 1992 robbery in Turvitville, November 1992 robbery in Beech Creek, and finally 1993 robbery in Cambletown. The man was about fifty years old in 1994, is 5'9" tall, 175 pounds, is left-handed, and walks with a slight limp. He has yet to be identified.
Extra Notes: This case first aired on the April 13, 1994 episode.
Results: Wanted
Links:
---
Ad blocker interference detected!
Wikia is a free-to-use site that makes money from advertising. We have a modified experience for viewers using ad blockers

Wikia is not accessible if you've made further modifications. Remove the custom ad blocker rule(s) and the page will load as expected.