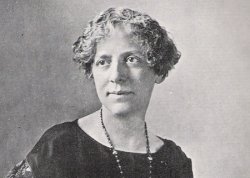 Real Name: Pearl Lenore Curran
Case: Psychic Activity
Location: Missouri
Date: July 8, 1913 to November 25, 1937

Details: Pearl Lenore Pollard was born in Mound City Illinois on February 15, 1883 to George Pollard and Mary Cordingly.  As an infant she was taken to Texas by her parents and eventually  moved to St. Louis Missouri where she lived for most of childhood and adult life.  She moved to California in 1930 where she died of pneumonia in a Los Angeles hospital on December 3, 1937.  Pearl Pollard married John Curran and after he died in 1922  she married two more times. Pearl Curran married Henry Rogers, an old family friend and Robert Wyman her teenage sweetheart.  She claimed that a 17th century woman named Patience Worth spoke to her through an Ouija board. Between July 8,1913 and November 25, 1937, Pearl wrote aphorisms, hundreds of poems, several plays and five novels by speaking with Patience Worth through the Ouija board.  Most of the writing is written in an archaic language of medieval or 17th century English.  Since Pearl Curran basically had only a grade school formal education and had rarely traveled out of Missouri, many people were unable to explain how Pearl Curran and Patience Worth were able to write so many works of high quality literature without using modern English since she had little formal education and was not widely traveled.
Extra Notes: The case was featured as a part of the May 12, 1995 episode.
Results: Unsolved
Links:
---
Ad blocker interference detected!
Wikia is a free-to-use site that makes money from advertising. We have a modified experience for viewers using ad blockers

Wikia is not accessible if you've made further modifications. Remove the custom ad blocker rule(s) and the page will load as expected.