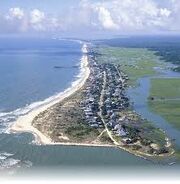 Case File: The Ghost of Pawley's Island (aka The Grey Man's Ghost)
Location: Pawley's Island, South Carolina
Date: 1989
Description: Pawley's Island is a town located on an Atlantic coast barrier island in Georgetown County, South Carolina.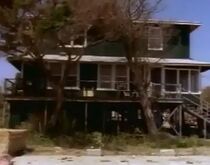 History: The Grey Man's Ghost is a friendly ghost that apparently either warns people on Pawley's Island about upcoming hurricanes or protect their houses when the hurricanes hit. One of the earliest recorded sightings of him occurred in October 1893. A tenant farmer had been herding animals that belonged to a local family when he encountered the ghost. The next day, a hurricane passed the family's plantation and was not damaged.
In 1954, a man saw the ghost shortly before Hurricane Hazel struck the island. His home was apparently so well-protected, that beach towels were still hanging off its deck after the storm went through. For the next thirty-five years, the island was spared from hurricanes. The residents believed that the ghost was a "guardian angel" of sorts.
The ghost was seen by many people on the island in the weeks before September 22, 1989, when Hurricane Hugo made landfall. Although the island experienced great amounts of damage from the hurricane, the homes of those who had seen the ghost received almost no damage.
One example was the Moores, who were walking along the beach when they saw a man in grey who vanished after they said hello to him. The next day, the hurricane hit, and their house received virtually no damage.
Background: The ghost is believed to be the spirit of a man who died in a tragic accident the day before he was to be married. In the summer of 1822, the man, a wealthy young planter, and his servant went by horseback to his fiancee's plantation. However, the horse suddenly threw the man off into a marsh. The man drowned before he could be pulled from the water. Later that day, his fiancee received the tragic news that he had died. Afterwards, she began wandering along the beach, despondent over his death. One day, his spirit appeared and warned her about an upcoming hurricane. She and her family left the island and were spared. 
Investigations: None
Extra Notes: The case was featured as a part of the October 31, 1990 episode.
Results: Unsolved
Links:
---
Ad blocker interference detected!
Wikia is a free-to-use site that makes money from advertising. We have a modified experience for viewers using ad blockers

Wikia is not accessible if you've made further modifications. Remove the custom ad blocker rule(s) and the page will load as expected.