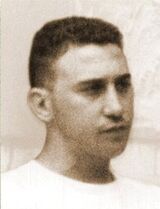 Real Name: Paul Ragusa
Aliases: None Known
Wanted For: Armed Robbery, Arson
Missing Since: June 14, 1996
Details: Paul Ragusa was the son of Filipo Ragusa, a major heroin trafficker who smuggled it from Sicily. His older sister Francesa and her husband were both part of the heroin ring. After his father was arrested, Paul became a leader of a small gang in Queens, New York, called the "Giannini Crew". They met at a restaurant called the Cafe Giannini. However, he wanted to be higher in the gang society. To become more well-known, he began his own personal "crime wave", and began robbing banks, setting fires, committing racketeering and assault. For years, he got away with it because his victims refused to press charges.
Ragusa and his crew robbed the same bank in their neighborhood three times, netting them $200,000. On June 23, 1993, two security guards carrying $20,000 in cash arrived at a bank to make a night deposit. As one of the guards walked to the deposit box, he noticed a suspicious van across the street. Three men then exited the van and began firing at the guard. The guard returned fire, emptying his revolver. The shootout left the guard seriously injured. Ragusa and his crew were soon linked to the robbery.
Although thirteen of the gang members were arrested, Ragusa remains at large and is now on the FBI's Ten Most Wanted list.
Extra Notes: This case first aired on the May 22, 1998 episode.
Results: Captured. In January of 1998, Ragusa turned himself in to the authorities. He had grown a goatee and dyed his hair canary yellow. He was convicted of racketeering, arson, and a weapons charge. He was sentenced to nineteen years in prison.
Links:
---
Ad blocker interference detected!
Wikia is a free-to-use site that makes money from advertising. We have a modified experience for viewers using ad blockers

Wikia is not accessible if you've made further modifications. Remove the custom ad blocker rule(s) and the page will load as expected.