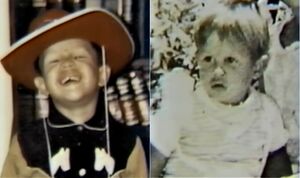 Real Name: Patrick Ackles
Case: Lost Son
Date: 1972
Location: Florida

Details: Six year old Patrick Ackles vanished while playing in his front yard in Florida in 1972. To this day, his mother is still searching for him. His case is noted as the oldest missing child case on record in the state of Florida.
Suspects: None known
Extra Notes: The case was featured as a part of the November 20, 1991 episode. Strangely, there is no known record of Patrick on any missing person website. The spelling of his surname is in doubt.
Results: Unsolved. A man later came forward claiming that he was Patrick, however, his mother did not believe it was him. Forensic evidence would later prove that the man was not Patrick. Patrick Ackles remains missing. However, info not from the segment claims that the family no longer counts Patrick Ackles as missing; the facts behind this claim have not been clarified.
Links:
---
Ad blocker interference detected!
Wikia is a free-to-use site that makes money from advertising. We have a modified experience for viewers using ad blockers

Wikia is not accessible if you've made further modifications. Remove the custom ad blocker rule(s) and the page will load as expected.