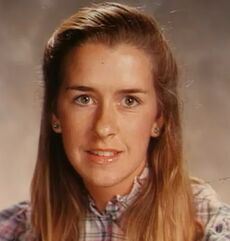 Real Name: Paige Colleen Roark
Case: Unusual Phenomenon
Location: Fallbrook, California
Date: April 14, 1984

Details: Eighteen-year-old Paige Roark left her Fall Brook, California home to go out with friends on April 14, 1984. Six hours later, she and one of her friends died after a drunk driver smashed into their car. Paige's mother Cynthia, along with the rest of the family, was understandably heartbroken. Cynthia tried to overcome her grief by running, which was something that she always did with Paige in the morning.
Two days after the crash, Cynthia left her house at 5am. After running for an hour and as dawn was breaking, she saw rays of sunshine come through the trees. She heard Paige's voice say that she was with God and that she was fine. Cynthia felt a great sense of peace and happiness because she knew Paige was okay.
She was shocked to learn that her mother, Dorothy, had an even more vivid experience. Dorothy heard Paige's voice say "I love you grandma" and saw her as a ghost. Paige told her that she was okay and that she would take care of "Mommom" who was Dorothy's mother.
Dr. Melvin Morse looked into the Roark case and believes that Cynthia and Dorothy's visions were real. Dr. Barry Beirstein, a psychologist, disagrees. He believes that the people are honest -- but it only seemed real and did not actually happen. Despite this, the Roark family is certain that Paige visited and helped comfort them.
Extra Notes: The case was featured as a part of the May 4, 1994 episode, about after-death visits, along with John and Patti Eggleston.
Results: Unsolved
Links:
---
Ad blocker interference detected!
Wikia is a free-to-use site that makes money from advertising. We have a modified experience for viewers using ad blockers

Wikia is not accessible if you've made further modifications. Remove the custom ad blocker rule(s) and the page will load as expected.