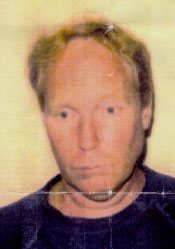 Real Name: Owen Knox Walker
Nicknames: No Known Nicknames
Location: California
Date: 1986
Occupation: None
Date of Birth: March 9, 1944
Height: 5'11"
Weight: Unrevealed
Marital Status: Single
Characteristics: Caucasian male. Reddish-blonde hair, blue-green eyes,

Details: Owen Knox Walker stands to inherit more than one million dollars, but will forfeit the money if he does not come forward by November 7, 1996. Owen was a Vietnam veteran who is believed to be homeless and has not been seen by his family since 1986. He has reportedly been spending the past decade living in Southern California, possibly working as a street vendor. Probate investigator Don Horman has recently been searching in and around Venice Beach in Los Angeles in an attempt to locate Owen before the deadline. Several vendors recognized his photograph and claimed that he has sold stuffed animals, used clothing and airplanes crafted out of empty beer cans. If Owen is not located by November 7, the inheritance will go to either another relative or the state of Illinois.
Extra Notes: This case originally ran on the November 1, 1996 episode as a special bulletin along with Heirs of Temperance Hawkins.
Results: Unresolved. It is unknown if Owen was ever located, but the deadline has already passed, so if he was never located, the money was given to another relative or the state.
Links: None
---
Ad blocker interference detected!
Wikia is a free-to-use site that makes money from advertising. We have a modified experience for viewers using ad blockers

Wikia is not accessible if you've made further modifications. Remove the custom ad blocker rule(s) and the page will load as expected.