Original Night Stalker
Talk

0
1,666pages on
this wiki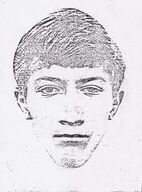 Real Name: Unknown
Aliases: East Area Rapist, Original Night Stalker
Wanted For: Murder, Rape
Missing Since: May 1986
Details: In the late 1970s, the Sacramento area was terrorized by a brazen serial rapist who became known as the "East Area Rapist" and is suspected of committing at least forty-four rapes in a three year period thoughout Central California. In the beginning, he targeted women who lived alone after watching them, but would eventually become more brazen and would rape women in houses where men were also present. He would normally bind and blindfold his victims.  Once they were subdued, he would often roam throughout their house, eating food from kitchens, rummaging through personal items, all while continuing to taunt and threaten victims, finally raping them. When targeting both men and women, he would tie the man up in another room and then place dishes on them and threaten to kill the man and woman if he heard the dishes fall.
By the late 1970s, the rapist moved to Contra Costa County, fifty miles west of Sacramento where he raped four more women. Suddenly, in 1980, the rapes stopped for no apparent reason. Then, between 1979 and 1986, ten people were murdered in southern California.
The first was the murders of Dr. Robert Offerman and his girlfriend Debra Manning, whom were found shot to death in his Goleta home on December 30, 1979. On March 13, 1980, Charlene and Lyman Smith were found murdered in their Ventura home, and authorities believed that the two double murders were connected. Then, the killer struck in Orange County for the first time, killing Keith and Patrice Harrington in their Laguna Niguel home on August 19, 1980; Patricia had also been raped. The next victim would be Manuela Witthuhn, who was killed on February 27, 1981, while her husband was spared because he was in the hospital at the time. Then, back in Goleta, between July 26 and 27, 1981, Cheri Domingo and Gregory Sanchez were brutally murdered in Cheri's home. Suprisingly, the killer stopped for no known reason for almost five years. Then, on May 4, 1986, 18 year old Janelle Cruz, who was unable to go with her family on a Mexico vacation, was sexually assaulted and murdered in her home, but the killings then stopped. In 1996, Orange County Sheriff's Department detectives linked the ten murders to one killer through DNA. Another five years would pass before in 2001 a criminalist connected the East Area rapes to the spree of serial killings in the area through DNA. Police believe that the killer may be responsible for other murders, such as the 1975 murder of Claude Snelling, who was shot and killed while trying to stop a kidnapped from taking his 16 year old daughter, and the February 2, 1978, murders of Brian and Katie Maggiore, who were shot and killed while walking their dog. Authorities believe that the killer has not been heard from since 1986 because he is either dead, in prison for an unrelated crime, or killed again in other states that have not been connected to his California crimes. The killer is described as 5'7" to 5'11", had blue or hazel eyes, and would today be in his 50s.

Extra Notes: This case first aired on the April 3, 2001 episode.
Another criminal rapist featured on Unsolved Mysteries was the Boston Rapist.
Results: Wanted
Links:
---