Ad blocker interference detected!
Wikia is a free-to-use site that makes money from advertising. We have a modified experience for viewers using ad blockers

Wikia is not accessible if you've made further modifications. Remove the custom ad blocker rule(s) and the page will load as expected.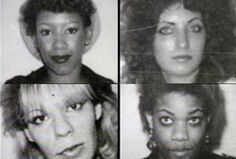 Real Name: Unrevealed
Aliases: Dr. No, Stargazer, Dragon
Wanted For: Murder
Missing Since: April 19, 1990
Details: In Ohio, police are searching for a serial killer who is suspected of murdering at least eight prostitutes throughout the state. On April 19, 1990, the body of an unidentified white female was found off of Interstate 75 behind a truck stop. Four years earlier, the body of a twenty-three year old prostitute named Shirley Dean Taylor was found behind a guardrail on the same interstate, about 100 miles away from the 1990 murder location. Although the two cases at first seemed to be completely isolated crimes, investigative reporter Michael Berens was able to link the two cases together along with several other Ohio unsolved murders. Eight women were found murdered along a major interstate, each of the identified victims were suspected to be prostitutes, and each of those women were believed to work at truck stops. Berens later went undercover to better learn information about these murders. As the majority of the johns were teamsters who used CB radios to communicate alongside the highway, Berens learned that the prostitutes would use CB radios in order to advertise their services. It is most likely believed that the killer used a two-way radio in order to attract a prostitute, posing as a potential customer. Once inside his truck, the killer murdered his victims then would discard her body in a remote location somewhere along the interstate.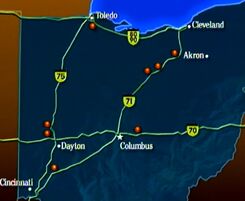 On February 8, 1987, 27 year old Anne Marie Patterson became the sixth victim of the killer. She was last seen getting into a black or dark blue Peterbilt truck, and was never seen alive again. Her body was located twenty five days later. Surprisingly, it seemed that the killer may have kept Anne's body in his refridgerated truck for almost a month. Berens soon determined that the first victim of the killer was a woman who was found in 1981 and has never been identified. Then, during the next nine years, seven more womens' bodies would be found, all suspected to be victims of the same killer. Berens believes that due to the locations of the bodies, the killer may have been a former police officer or security guard. Two of the victims were last seen getting into a dark blue or black Peterbilt truck with a refrigerated trailer. His possible C.B. handles are "Dr. No", "Stargazer", and "Dragon." He has never been identified and the murders remain unsolved.
Extra Notes: The case was featured as a part of the February 19, 1992 episode.
Results: Unresolved. One of the unidentified victims was finally identified in 2010 as Paula Beverly Davis, who vanished from Missouri in 1987. Authorities believe she was the victim of serial killer Lorenzo Gilyard. Another one of the unidentified woman, was identified in February of 2013 as Sharon Lynn Kezierski, who had vanished in October of 1989 from Florida. Even before she was identified, her killer was determined to be Dennis Hetzel who was indicted for her murder in 1993. He later died in prison . It is uncertain whether the other murders are connected to either Hetzel or Gilyard. Many investigators believe that the other murders may be related to other cases throughout the United States. The woman found in April 24, 1981 and the other in April 19, 1990 have yet to be identified.
Links:
---