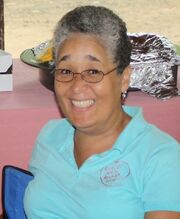 Real Name: Noemi Gonzalez
Nicknames: No known nicknames
Location: North Miami, Florida
Date: February 12, 2014

Occupation: Former 911 Dispatcher
Date of Birth: Unrevealed
Height: 5'1"
Weight: 160 pounds
Marital Status: Unrevealed
Characteristics: Salt and pepper hair, birthmark on left arm and right cheek. She takes medication for epilepsy.

Details: Fifty-four-year-old Noemi Gonzalez vanished from her home on February 12, 2014. Her son woke up that morning and discovered that she was missing. She left most of her personal belongings behind and her family and police are uncertain what happened to her.
Suspects: None known
Extra Notes: This case was uploaded to the Unsolved Mysteries website on October 3, 2014. The person interviewed in the video is Noemi's sister-in-law, Liz Gonzalez.
Results: Unsolved
Links:
---
Ad blocker interference detected!
Wikia is a free-to-use site that makes money from advertising. We have a modified experience for viewers using ad blockers

Wikia is not accessible if you've made further modifications. Remove the custom ad blocker rule(s) and the page will load as expected.