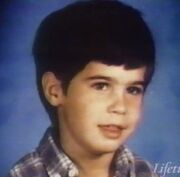 Real Name: Nicholas Koropolous
Nicknames: No known nicknames
Location: San Francisco, California
Date: June 21, 1989
Occupation: Unrevealed
Date of Birth: Unrevealed
Height: Unrevealed
Weight: Unrevealed
Marital Status: Unrevealed
Characteristics: Unrevealed
Details: Arthur Koropolous had been in a relationship with Levia Molinari, and it produced a son named Nicholas. As the years passed, they grew apart, and Levia began to get involved in a cult that preached poverty theology and encouraged its members to wear homespun drab attire. She began living in an apartment with several other cult members, and she got Nicholas involved in the cult. He told his father that he was being harshly disciplined by the cult. Arthur later learned that Nicholas was not allowed to be with his friends, that he was not going to conventional doctors, and that he was being withdrawn from school. Arthur was awarded custody of Nicholas on the basis Levia had no employment and her decision to join this cult was viewed as a child risk by the courts, as well as that Arthur remarried and was gainfully employed. However on June 21, 1989, Levia absconded with Nicholas. When Arthur arrived at the apartment, he found it completely empty. Levia left a note to him, saying: "I hope you find the path to righteousness. God's, not man's. Shalom, Levia". He and his wife sorted through Levia's garbage, finding another address for her in Cincinnati. However, she was not there. After getting another address in New York, he was able to track down several of the cult members, but they refused to reveal Levia and Nicholas's whereabouts. He later received a letter from Levia in which she said she wanted to raise Nicholas with the cult. The FBI became involved in the case, but no leads have been discovered due to Levia's nomadic lifestyle. Two years have passed and Arthur is still searching for Nicholas and Levia.

Extra Notes: This case first aired on the February 5, 1992 episode; the update aired on April 29, 1992.
Results: Solved. Levia and Nicholas were discovered living in Chicago. She was arrested and later sentenced to three years probation. He has since been reunited with Arthur, along with his stepmother and half-brother.
Links: None
---
Ad blocker interference detected!
Wikia is a free-to-use site that makes money from advertising. We have a modified experience for viewers using ad blockers

Wikia is not accessible if you've made further modifications. Remove the custom ad blocker rule(s) and the page will load as expected.