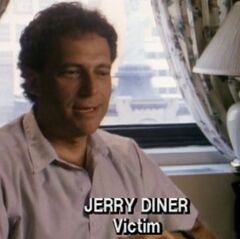 Real Name: Unrevealed
Case: Fraud
Date: Unrevealed
Location: New York City, New York

Details: In New York City, a coin scam perpetuated by unknown persons is sweeping through the city. A man named Jerry Diner was approached by a man who appeared to be drunk, and asked him to call a number for the coins that he "found". He called the "doctor" that lost the coins and told Jerry to give the man $100. After Jerry gives the man the money, he was sent to an apartment on the East Side, where he learned from the doorman that the doctor did not exist and that he had been scammed. Jerry is one of the thousands of people that are scammed each year, not only in New York but in Florida, Massachusetts, and Maryland.
Suspects: None known
Extra Notes: This segment first ran on Unsolved Mysteries in the October 11, 1989 episode.
Results: Unsolved
Links: No known links.
---