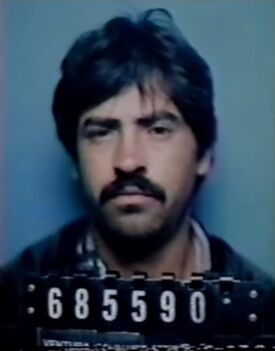 Real Name: Nasario Calderon Palacious
Aliases: Juvenito Calderon, Nasario Calderon
Wanted For: Vehicular Manslaughter, DUI Manslaughter
Missing Since: August 1992

Details:
On August 22, 1992, thirty seven year old Nasario Palacios was driving at a high speed on a highway road in Ventura County, California, when his car hit a guard rail, flipped over, and landed on another car. That car was driven by twenty one year old Anthony Moya, who died by the time he arrived at the hospital. Palacios was arrested, but was released and has not been seen since.
Extra Notes: This case first aired on the October 14, 1994 episode. It was shown as a part of the fugitive hotline, along with Alan Verl Sneed and Edward Zakzrewski.
Results: Wanted
Links:
---
Ad blocker interference detected!
Wikia is a free-to-use site that makes money from advertising. We have a modified experience for viewers using ad blockers

Wikia is not accessible if you've made further modifications. Remove the custom ad blocker rule(s) and the page will load as expected.